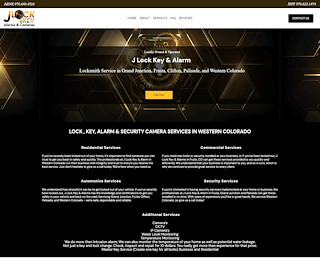 J Lock & Key is one of the leading companies offering security systems Grand junction and it's easy to see why. We don't just provide IP cameras and CCTV systems—we also offer water level monitoring and temperature monitoring for your property. Call us now at 970.640.4524 for a comprehensive security system.
Investing in security systems Grand Junction is now essential. Crime rates are on the rise, and houses with low security (i.e. lack of locks, etc.) are more likely to be burglarized. Statistics also indicate that once a house has been broken into, it will likely be burglarized again within a month's time. This is because thieves already know the layout of the house and are likely to come back items they failed to take the first time around.
Whether or not your home has been broken into, it is best to install security systems immediately to protect your assets and yourself. Burglars are put off by properties that have robust security systems that are difficult to disable. They also tend to run from houses with sounding alarms. If you want to sleep soundly at night, hire J Lock & Key for security systems Grand Junction. We offer high-quality security systems and even master key services suitable for commercial properties.
Aside from giving you peace of mind, we can also offer other services for your residential property, like water level monitoring (think potential water leakage), temperature monitoring, and carbon monoxide detection.
A safe home is a happy home. J Lock & Key is available 24 hours a day, 365 days a year. You may call us at 970.640.4524 or you can fill up our online form for inquiries.
Security Systems Grand Junction
Related Posts
If you need security cameras Grand Junction for your home or place of business, call J Lock & Key at 970.640.4524. Unlike other companies, we can install cameras without forcing you to pay for a monitoring service. Choose from our different security options to see what arrangement works for your requirements and budget. Contact us for a no obligations quote.
J Lock & Key is a specialist in home security systems in Grand Junction. We can design and install CCTV systems, IP cameras, as well as water level and temperature monitoring for your home. We do not stop at just intrusion alarms—we can also protect your house from fires and potential water leakage. Contact us at 970.640.4524.
We welcome your comments!